Apparently I have bad luck...
Now I can access the DataManager software but after couple of seconds it brakes down and I can not export the files into .h5 format for the Matlab analysis...
I had it opened together with the MCExperimenter (I was acquiring data) and it stopped without any clear reason (was not the first time that I was running the two software at the same time and never happened something strange).
I already tried to reboot the pc and uninstall-reinstall the software (also into different location folder, with the .exe provided in the official multichannelsystem website). There are no additional information provided by the windows error system so it is difficult to guess what the cause could be..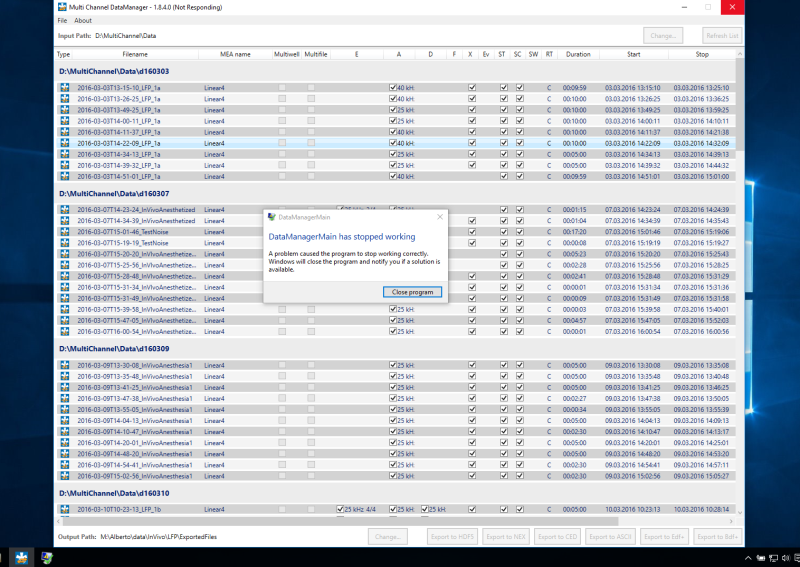 Posts

: 9


Join date

: 2016-03-10



Hi,
it's advisable to use a source directroy for the DataManager which does not contain all your data, but just the selection you currently want to export. Most likely, a single corrupted file makes the DataManager crash. So the way to go is to move all data to a new folder and make a specific source folder for the Datamanager. Now the Manager should open, and you can change the source directory to the specific folder. Now move the files you want to export in the source directory. Sooner or later, you'll probaby find the problematic one.

Cheers Frank MCS

P.S. it's usually better to write to support@multichannelsystems.com if you have a question for us, not the general community



Posts

: 185


Join date

: 2008-07-14



a single corrupted file makes the DataManager crash
Correct!
found a missing number in one of the saved acquired file...
The way to organize the data to be exported you suggested seems to be very reasonable, IŽll follow it hopefully saving quite some time in the future.
Thanks



Posts

: 9


Join date

: 2016-03-10



Could you send me the file which caused the crash, so that i can possibly fix the DataManager?
I need at least the files with extensions .msrd and .msrs. If you need an upload location, I could send you a drop box link.
Hans
Chamaeleon wrote:

a single corrupted file makes the DataManager crash

Correct!

found a missing number in one of the saved acquired file...

The way to organize the data to be exported you suggested seems to be very reasonable, IŽll follow it hopefully saving quite some time in the future.

Thanks



Posts

: 16


Join date

: 2008-08-19




---
Permissions in this forum:
You
cannot
reply to topics in this forum