Hello, I updated today the MultiChannelExperimenter to its latest version (2.6.0), then it proposed firmware update for our device the MCS ISB. During the first component update (Bootstrap something), it failed (our device sometimes do connect/disconnect, we have windows10).
So it proposed to turn of the Device On/Off and to try again. I did it but then the device was not recognized by windows anymore, so impossible to do an update again.
I somehow saw that the firmware update should be done for both ports, A and B. So switching to usb port B was a solution to have our device to work. It also proposed the update that I did, and when it was crashing I simply not turned of the device and tried to update again and again until it was done.
So now my port B is updated and working. Looking in the device manager of Windows, I see it in MultiChannelSystem devices.
For the other port, have a look to these screenshots :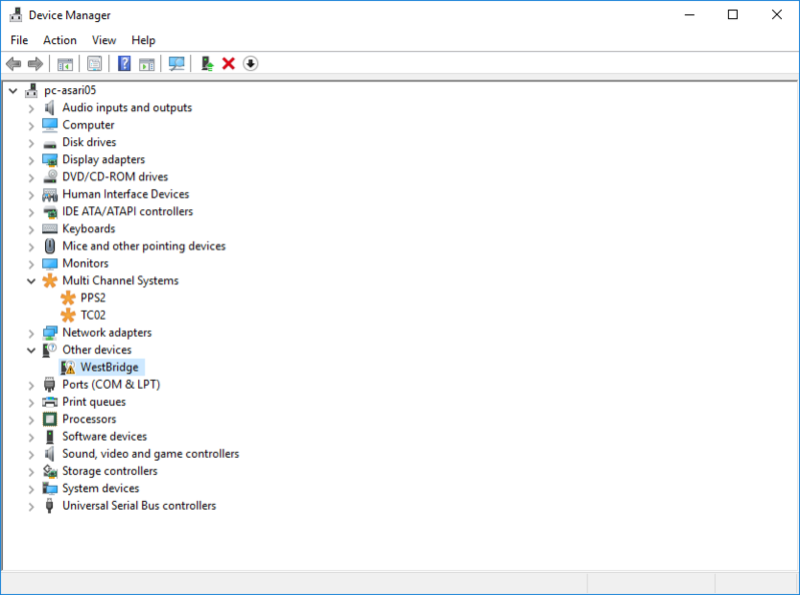 So I see its possible to update the driver from here. Can I take the driver of port B and give it to port A ? I saw it's located in C:\WINDOWS\system32\DRIVERS\mcsusb64.sys   Or maybe you have the driver and you could give it to me ?
I have no experience with these things, so please give me the instructions I need to follow, I don't want to put more mess in the device.
Cheers,
Tom

tom-tbt




Posts

: 6


Join date

: 2017-06-08



Dear Tom,
could you drop an e-mail to support@multichannelsystems.com? Also for future issues which require our help rather than advice from other user that would be the better way of communication.

Best regards Frank MCS

Frank MCS




Posts

: 188


Join date

: 2008-07-14



Hello,
I send an email to the support.

I thought that if you put the answer here it could help people with similar problems, that's the point of a forum.

Best,
Tom

tom-tbt




Posts

: 6


Join date

: 2017-06-08



---
Permissions in this forum:
You
cannot
reply to topics in this forum